ALCOHOL / EXTRACT / PLATO / CO2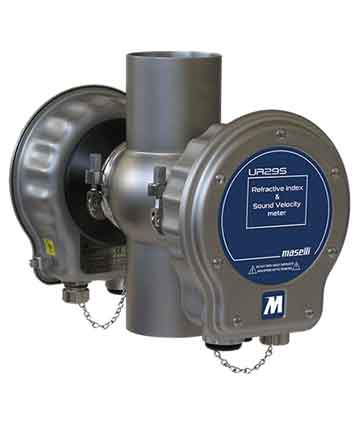 The beer analyzer BA06 is the only real 100% in line system for the continuous analysis of Alcohol / Plato / Extract and CO2 the beer. In fact, due to its unique design, the Maselli sensors are measuring the beer when flowing in the main piping with no need of any bypass or bypass pump. This configuration is able to guarantee the best hygienic conditions eliminating any risk of contamination of the beer. The whole system, including Alcohol, Plato, Extract and CO2 sensors, maybe installed in one single Varivent fitting reducing dramatically the installation costs: as well, the sensors may be easily connected to the MP01 or MP02 receivers designed for user friendly interface. There are no moving parts in the equipment making it very robust and practically maintenance free: as well, the new optical CO2 sensors based on the ATR infrared principle eliminates the need of the expensive maintenance on the traditional pressure / temperature analyzers.
Technical features
Application:
Measurement of alcoholic beverages and beer on process lines

Measurement limits:
Alcohol: 0…10% w/w; (0…12% v/v).
Real extracts: 0…30 Ew.
Original extracts: 0…30 °Plato.

Accuracy* (Repeatability):

Alcohol: ±0.02[0.01] w/w.
Real extracts: 0.05 [0.01] Ew.
Original extracts: 0.05 [0.01] °Plato.
*With CO2 compensation and specific product calibrations.

Product temperature:

-5…+90 °C [23…194 °F] with automatic compensation of the influence temperature has on the sugar concentration, measured by Pt1000 Temperature Probe, Class "A" according to IEC751.
The maximum limit for the measurement of CO2 is 35 °C [95 °F].

Fluid limit conditions

Line pressure: max. 10 bar (145 psi) a 20 °C [68 °F]
max. 8 bar (116 psi) a 100 °C [212 °F]


Send a request: Maselli Technical Center is there to assist you solving any technical issue your equipment is facing.