URX1 – Intrinsically safe process refractometer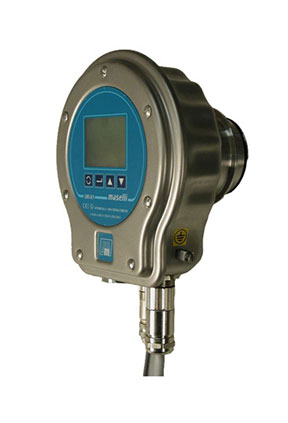 The URX1 digital refractometer is designed specifically for hazardous areas up to Zone 0: the equipment certificate is ATEX II 1 G – EEx ia IIB T4. You may simply install the unit in-line or in a tank or vessel. It continuously measures concentration and displays and outputs the result in Brix or nD or % concentration with high accuracy. It also features a user programmable scale for specific applications. The URX1 will signal to the process when concentration is outside of specifications or has reached its target end point by means of analogue and digital interfaces (Profibus DP is available as an option). The analyzer does not have any drift in the time so that it does not need any adjustment vs the laboratory: after the initial configuration during start up, the operators in the plant do not have to touch the system anymore. Due to the optical technology, the equipment is virtually no maintenance: the robust construction with stainless steel case and IP67 protection, allows the installation in any aggressive environment using various Maselli mounting adapters including weld ends, flanges and DIN 11851.
Technical features
Application:
Measurement of liquid concentration in process lines in Food, Chemicals, Textiles, Petrochemical industries, etc. in continuous or batch plants

Measurements limits:
Prism in Sapphire: 1.3170…1.5318 nD (0…95 Brix)
Prism in Balf: 13305…1.4907 nD (0…80 Brix)
Prism in Sapphire HR: 1.3812…1.5687 nD (30…100 Brix)
Prism in Crown: 1.3170…1.4201 nD (0…50 Brix)
Prism in N-BK10: 1.3170…1.3725 nD (0…25 Brix)


Accuracy:
With reference to standard sucrose solutions:
Standard Accuracy Version:
0.3% of Scale range; maximum accuracy ±0.00007 nD (±0.05 Brix)
Super Accuracy (SA) Version:
0.1% of Scale range; accuracy ±0.00003 nD (±0.02 Brix), valid for maximum product and/or ambient temperature variations of ±10 °C (±18 °F).
Measurement scale:
"BRIX" or "USER"; the "BRIX" scale refers to the nD/Bx ICUMSA (1974) conversion tables; the "USER" scale can be configured at the time of the order

Response time:
1.8 seconds

Product temperature during measuring:
-5…+105 °C (23…221 °F).
-5…+95 °C (23…203 °F) for Super Accuracy (SA) version.
"LP" version for temperature up to 140 °C (284 °F), except for the Super Accuracy (SA) version
Automatic compensation of temperature measured by Pt1000 temperature sensor in 316 AISI stainless steel ¼", Class "A" to IEC751.

Maximum temperature during sanitization:

125 °C (257 °F) x 30 min or 145 °C (293 °F) x 30 min for the "LP" version

Response time to variations in temperature:
2'/10 °C (18 °F).

Relative line pressure:
max. 10 bar (145 psi) at 20 °C (68 °F)
max. 8 bar (116 psi) at 100 °C (212 °F)
Special version for pressure up to 25 bar (362 psi) at 100 °C (212 °F)


Send a request: Maselli Technical Center is there to assist you solving any technical issue your equipment is facing.