AT05 – Automatic Titrator
pH, CONDUCTIVITY, REDOX, ISEE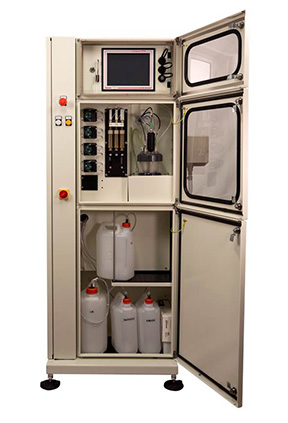 With the Maselli AT05 automatic titrator, automatic titration moves from the laboratory to the process. The simple unit is strong, installed in a sealed box, it can control up to 6 lines, and conduct diverse analysis on a vast product range in succession. The titrator, apart from managing the sample and analysis, performs routine auto calibration cycles, manages acoustic and luminous alarms on the measured values and archives data from the various lines. The installed control unit manages the addition of concentrated products necessary for restoring and maintaining the chemical parameters of the process. The sample is automatically lifted from the lines, placed in the external sampler, introduced into the analysis cell and titrated with reagents via a syringe dispenser. Reagents necessary for the preparation of the sample for analysis and calibration cycles are introduced in the cell via peristaltic pumps. A central control unit manages all the titration phases and external interfacing (programming, transmission and printing).
Technical features
Measurements Limits:
pH Measurement:0…14 pH ±0.1 pH
Redox Measurement: 0…+2500 mV
Conductivity Measurement: 0…100mS

Accuracy:
±800 mg/l-O2 in the range 0…100.000 mg/l-O2 or equiv-alent COD
Methods:
Acid/base, redox, precipitation titrations with the possibility to determine the end point:
end point
inflection point with constant dosing
inflection point with variable dosing (auto studio)

Product temperature:
0…100 °C (32…212 °F)
Line Pressure:
Max 6 bar (87 psi) at 20 °C (68 °F)
Number of Lines:
6 lines + manual bowl
Quantity of Product:
1…80 cc
Analyzed:
Quantity of Product Sampled:
~500 cc

Send a request: Maselli Technical Center is there to assist you solving any technical issue your equipment is facing.