Basic receiver for beverage analyzers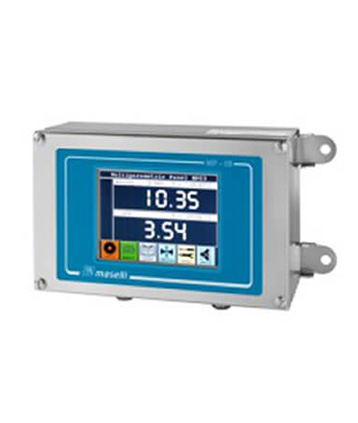 The MP01 is a multi-parameter color touch screen controller that offers precise process monitoring capability. It displays the results locally and provides an output signal that can be used for process control. The output signals can be configured as analog or digital (Profibus on request). The MP01 provides a user-friendly interface that is used to manage all settings and calibrations for the sensors that are connected. The controller can be configured to communicate directly to Maselli M8 data collection software in the laboratory.
Technical features
Application:
Display and control of qualitative parameters on process lines producing sugar-sweetened or diet carbonated soft drinks, alcoholic beverages, non-carbonated soft drinks, beer and mineral waters

Power supplies
Electric:
DC 24V10% 1A Max
Connection box without Transformer (optional):
Power supply according to MP03 specifications
Terminal board connection.
Connection box with Transformer (optional):
AC 100…240V ±10% 50…60Hz 25VA
Terminal board connection.

Interfaces

Analog:
2 active output channels 0…20mA or 4…20mA (470 max.) configurable in the "Max. and Min. full scale" values.
4 auxiliary input channels.
Digital:
RS485 for connection to the "M8" remote control unit
RS485 for connection to Maselli analyzers
PROFIBUS DP or ETHERNET/IP (optional).
Inputs:
N° 2 configurable inputs.
N° 2 relay outputs for alarm signals with contacts of a maximum capacity of 1A/24V DC/AC.

Execution:
AISI 304 casing for wall or post mounting

Function:

System management, data processing, operator interface, interfacing with analysis unit, interfacing with additional elements and with the process line

Electronic section:

Central "CPU" unit with microprocessor with management software on Flash, updatable via PC; communication, interfaceability with analysis unit via serial RS485 protocol.
Processing and indication of measurements, software menu display, diagnostics menus, error messages and operating status indicator icons on graphic backlit LCD 320×240 pix display with "LCD Saving" function and touch screen.
Multi-level programming software complete with password protection for certain functions and check menu.
5 language options (Italian, English, German, Spanish, French) for menu and message display.
Process temperature expressed in "°C" or "°F" and pressure expressed in "kg/cm²" or "psi".
Possibility to store and call up at any time groups of parameters known as "recipes" containing production parameters.

Dimensions and weight:

270 (w) x 201.5 (h) x 115.5 (d), 3.2 kg

Accessories:

Different fasteners for installation on the wall or piping (diameter 40 – 100 mm).


Send a request: Maselli Technical Center is there to assist you solving any technical issue your equipment is facing.