Top receiver for beverage analyzers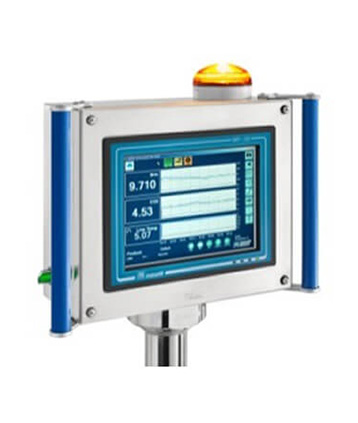 The MP02 controller is a Windows based color touch screen that offers precise process monitoring capabilities. The MP02 has got all the advantages and versatility of a PC including a complete range of outputs such as USB, Ethernet or HDMI for remote display. It displays the results locally and provides an output signal that can be used for process control. The output signals can be configured as analog or digital (Profibus on request). The controller has the capability to connect to external networks allowing remote access for data analysis and remote troubleshooting. The MP02 provides a user-friendly interface that is used to manage the settings and calibrations for the sensors that are connected. The controller can be configured to communicate directly to Maselli M8 data collection software in the laboratory.
Technical features
Application:

Display and control of qualitative parameters on process lines producing sugar-sweetened or diet carbonated soft drinks, alcoholic beverages, non-carbonated soft drinks, beer and mineral waters : activate to sort column descending
Type of function:

Interfacing with IB07, IB08 or Ur29, UR27, UC07, UC08, US01 single Analysis Units. Options for the display, calibration, diagnostics and setup of operating parameters.
Acquisition, via Analog inputs, of mV, mA, Pressure and temperature signals.
Activation of two programmable alarm contacts.
Acquisition of two programmable input contacts.
Management of 3 serial outputs one of which is personalizable via HMS module.

Power supplies
Electric:
DC 24V 10% 7A Max
Variable absorption depending on the appliances connected.
Connection box without Transformer (optional):
Power supply according to MP02 specifications.
Terminal board connection.
Connection box with Transformer (optional):
AC 100…240V 10% 50…60Hz 170VA
Terminal board connection.

Interfaces

Analog:
2 active output channels 0…20mA or 4…20mA (470 max.) configurable in the "Max. and Min. full scale" values.
4 auxiliary input channels.
Digital:
RS485 for connection to Maselli analyzers
PROFIBUS DP or ETHERNET/IP (optional)
Inputs:
2 configurable inputs
Outputs:
2 relay outputs for alarm signals with contacts of a maximum capacity of 1A/24V DC/AC
Usb:
For any software updates or recipe downloads required
Ethernet:
RJ-45 for external connection (laboratory installed M8)

Execution:

Chassis in AISI 304 stainless steel with removable front panel, wall or post mounting system, 10″ touch screen monitor

Electronic section:

"CPU" with PENTIUM® INTEL® microprocessor (or similar, depending on technological evolution), 4 GB RAM memory, Video Card, Modem, 3-button mouse.
10″ monitor with analog resistive touch screen, resolution: 2048×2048
USB V 2.0
Ethernet:
IEEE 802.1p and 802.1q supported
10/100/1000 IEEE 802.3 compliant

Dimensions and weight:
340 (w) x 300 (h) x 160 (d), 5.5 kg

Accessories:
Different fasteners for installation on the wall or piping (diameter 40 – 100 mm).


Send a request: Maselli Technical Center is there to assist you solving any technical issue your equipment is facing.