BRIX / nD / HFCS / USER SCALE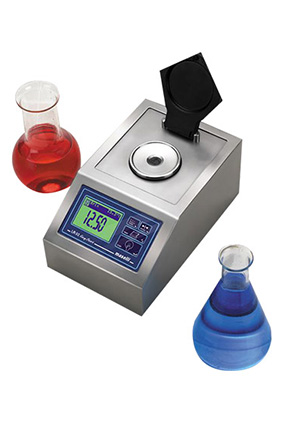 The LR-02 refractometer has been designed to be accurate, robust, compact and easy to use both in the laboratory and out at the line. Thanks to its battery power supply and carrying handle, it is easy to transport and use without being connected to a main power supply. Its waterproof keyboard and its stainless steel structure mean it can be safely used directly in the production area. By simply lowering the cover, without pushing a single button, the LR-02 "Easy Start" refractometer measures the sample's refractive index, calculates its concentration (Brix o User), displays the information on an LCD unit with back lighting and sends the recorded value to an optional external printer or to a PC. The project has been developed using state of the art technology, which guarantee a high level of precision and reliability, such as the sapphire prism, the LED long-life light source and high-resolution digital optical CCD sensor.
Technical features
Application:
Measurement of liquid products in laboratories in the Food, Chemicals, Textile, Petrochemical industries, wineries, etc.

Measurement limits:
1.3300…1.5318 nD 0…95 Brix

Accuracy:
(1.3300…1.3811 nD): 0.00007 nD
(0…30 Brix): 0.05 Brix
(>1.3811…1.5318 nD): 0.00014 nD
(>30…95 Brix): 0.1 Brix
Measurement scales
N° 5 measurement scales selectable from the keypad:
nD.
BRIX; the "BRIX" scales refers to the nD/Bx ICUMSA (1974) conversion tables.
HFCS42 and HFCS55 with adjustable Zero value.
N°1 "USER" scales totally configurable from the keypad.

Product temperature:

5…45 °C with automatic compensation of measured temperature by means of ceramic "Pt1000" sensor, Class "B" according to IEC751; compensation for "User" scale ranges refers to the values set on the utility software
Quantity of analyzed sample:

~3 cc for analysis

Send a request: Maselli Technical Center is there to assist you solving any technical issue your equipment is facing.